Tuan Chau port opens new terminal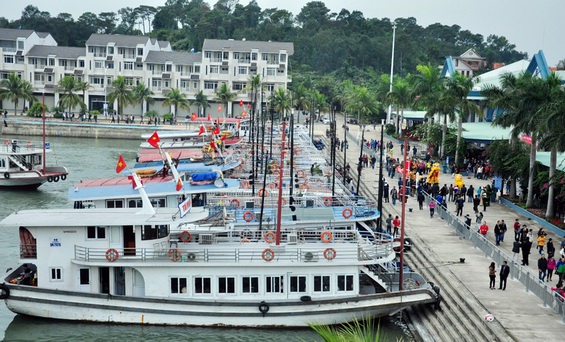 Tuan Chau international tourist port has officially put the new station into operation.

The new station was built on the ground of the old station, which was invested, renovated and expanded with professional design, with the total floor area of ??over 8,000 m2, more than 1,000 seats and can receive about 3,000 visitors at the same time waiting for boarding the cruise to visit Halong Bay.

To meet the needs of tourists, as well as creating the best conditions for the implementation of service units working in the port, the port management unit has arranged the station according to functional areas. Specifically, the area for procedures are widely arranged with modern equipment, to meet the needs of the work force at ports such as inland waterway, Halong Bay Management Board, Port management...

Besides, the new terminal also has a supermarket, children's play areas, health centers, tradition music performance, post office and travel information areas. To assist passengers about schedules to visit Ha Long Bay, the new station is equipped with large screen monitor, continuously posting information about services, provide drinking water machine, free cold towels for tourists.

Focus of the new station will undoubtedly attract tourists is the food and drink service area, designed on a high with a broad view of the cruise wharf.

According to representatives of the port management, though put into operation in early 2016, the old terminal of the Tuan Chau International port was overloaded, particularly the bathroom system, not timely meet the needs of over 7,000 passengers through the port every day to Halong bay, and the new station has now solved this problem.

Quang Ninh province is currently heading towards the development of quality tourism, high class, meeting the increasing demands of domestic and foreign tourists. Therefore, timely providing of additional facilities like Tuan Chau International port is very important, contribute to improving tourism infrastructure, creating an impressive landmark for visitors every coming to the port.